APC NetBotz Rack Monitor 200 (with 120/240V Power Supply)

Rack-mount monitoring for up to 78 external sensors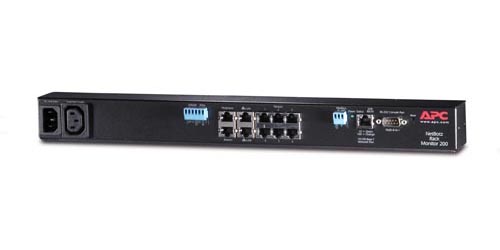 Sorry, this product is no longer available, please contact us for a replacement.
More pricing below, click here!
NetBotz Rack Monitor 200 Overview:
Environmental monitoring for network closets to data centers
NetBotz is an active monitoring solution designed to protect against physical threats, environmental or human, that can cause disruption or downtime to IT infrastructure. This scalable suite of networked appliances, sensors, access controls and cameras is designed to safeguard environments ranging in size from network closets to data centers. The modular design allows for common sensors among the NetBotz appliances. Optional user-defined alerts can be sent in a variety of formats and are easily integrated into event escalation policies. For management of multiple NetBotz appliances, use InfraStruXure® Central. InfraStruXure Central with Surveillance collects, organizes and distributes critical alerts while enabling a single view of multiple cameras, rapid search and retrieval of video and 'tagging' of important video clips.
The NetBotz 200 offers the most cost effective approach for environmental monitoring over the network. It provides temperature, humidity, door contact and dry contact monitoring that allows you to monitor your environmental conditions remotely. Additional features like integration with InfraStruXure Central and user-defined alerts make the NetBotz 200 the perfect unit to protect your IT assets from environmental threats. The NetBotz 200 can be used in Network Closets to Data Centers, but it is commonly installed in Data Centers.
Supports up to 12 external sensor pods and up to 78 Universal Sensors.
Adjustable alert thresholds
Integrates with InfraStruXure Central
Includes: Country-specific detachable power cord, Documentation CD, Installation guide, Null-modem cable, Rack Mounting brackets, Temperature/Humidity Sensor
Features & Benefits:
NBRK0201 Features
Features:
Modbus output
Reports information from the NetBotz appliances to a third party device via RS-485.
Customizable Output Relays
Control output from third party devices via output relay(s).
NetBotz 200 Features & Benefits
Availability:
Access monitoring
Detect access by unauthorized personnel via door switch.
Environmental Monitoring
Prevent equipment failure from a full range of threatening environmental conditions.
Fault notification
Real-time event notification minimizes response times to critical physical infrastructure situations. Enables IT Administrators to reduce mean time to repair, improve efficiency, and maximize uptime.
Reboot equipment remotely
Saves dispatching technicians to remote locations.
Agility:
Adjustable threshold
Customize threshold definitions (multiple thresholds per sensor, scheduling, severity levels) to your requirements.
Total Cost of Ownership:
Browser Accessible
View the user interface with a browser. Provides quick access from anywhere on a secure network.
Protection:
Password Security
User-selectable password protection prevents unauthorized access.
Manageability:
Integrates with InfraStruXure Central
An IT-ready, scalable monitoring system that collects, organizes, and distributes critical alerts, surveillance video and key information, providing a unified view of complex physical infrastructure environments from anywhere on the network
Enterprise management system compatible
Manage your APC devices from a single system by forwarding SNMP traps (events) to your preferred enterprise management system.
Technical Specifications:


Model:
NBRK0201
General
Number of Additional Sensor Pods
12
Housing
Rack-mount
Indicators
Power, Network Link, Network Status
APC Universal Sensors Supported
Temperature, Temperature / Humidity, Door Contact
Connectors
Ethernet:

(1) 10/100 Base-T Ethernet Port

Power:

AC Line Inlet Port 100-240 V AC; 50/60 Hz
(6) APC Universal Sensor Ports
(1) Voltage Output Port
(1) Relay Output Port
(1) Switchable Outlet Port
Modbus Device Port
(1) Beacon Port
(2) A-Link Port

Includes
Installation Guide, Documentation CD, Rack Mounting Brackets, Null-Modem Cable, Temperature/Humidity Includes Sensor, Country-Specific Detachable Power Cord
Communications & Management
Protocols
HTTP, HTTPS, SCP, SMTP, SSH V1,SSH V2,TCP/IP, Telnet
Network Interface Connections
RJ-45 10/100 Base-T
Management Interface
Internet Explorer® v 5.5 or later; Netscape® v 7.x or later; Firefox® 1.0 or later
Client System Requirements
TCP/IP Wizard runs on computers with Microsoft Windows operating systems (XP, 2000, 2003, NT®)
Physical
Net Weight
3.15 lbs. (1.43 kg)
Maximum Height
4.45 inches (113 mm)
Maximum Width
20.75 inches (527 mm)
Maximum depth
4.45 inches (113 mm)
Environmental
Operating Environment
32 - 113 °F (0 - 45 °C)
Storage Temperature
5 - 149 °F (-15 - 65 °C)
Operating Relative Humidity
0%
Storage Relative Humidity
0%
Operating Elevation
0-10000 feet (0-3000 meters)
Storage Elevation
0-50000 feet (0-15000 meters)
Conformance
Regulatory Approvals
AS/NZS 3548 (C-Tick) Class A, cUL Listed, CE, FCC Part 15 Class A, ICES-003, Low Voltage Directive 2006/95/EC, PSE, UL Listed, VCCI Class A, VDE
Standard Warranty
2 years repair or replace
Compare Models:
Model:
NetBotz Rack Monitor 200
NetBotz Rack Monitor 450
NetBotz Rack Monitor 570
Part Number:
NBRK0201
NBRK0451
NBRK0570
Customizable Input Contacts
Customizable Output Relays
Modbus output
General:
Number of Additional Sensor Pods
12
2
12
Housing
Rack-mount
Rack-mount
Rack-mount
Indicators
Power, Network Link, Network Status
Alert, Power, Network Link
Alert, Power, Network Link
APC Universal Sensors Supported
Temperature, Temperature / Humidity, Door Contact
Temperature, Temperature / Humidity, Door Contact, Smoke, Spot Leak, Vibration, Dry Contact, 0-5V
External Cameras Supported
-
NetBotz Camera Pod 160 and CCTV Cameras integrated through the NetBotz CCTV Adapter Pod
Analog CCTV cameras via USB CCTV Adapter Pod, NetBotz USB Camera Pod, NTSC, PAL, Pelco IP110-CHV9, Pelco IP3701H-2, Pelco IPSD4N-W0
Connectors
Ethernet:

(1) 10/100 Base-T Ethernet Port

Power:

AC Line Inlet Port 100-240 V AC; 50/60 Hz
(6) APC Universal Sensor Ports
(1) Voltage Output Port
(1) Relay Output Port
(1) Switchable Outlet Port
Modbus Device Port
(1) Beacon Port
(2) A-Link Port

Ethernet:

(1) 10/100 Base-T Ethernet Port

Power:

AC Line Inlet Port 100-240 V AC
50/60 Hz
(6) APC Universal Sensor Ports
(1) USB Configuration Port – Style B
(2) USB Ports – Style A
(1) A-Link Port
(1) Voltage Output Port
(2) Relay Output Ports
(4) 4-20 mA Input Ports
(1) Beacon Port
(1) Rope Leak Sensor Port

Ethernet:

(1) 10/100 Base-T Ethernet Port

Power:

AC Line Inlet Port 100-240 V AC
50/60 Hz
(6) APC Universal Sensor Ports
(1) USB Configuration Port – Style B
(4) USB Ports – Style A
(1) A-Link Port
(1) Voltage Output Port
(2) Relay Output Ports
(4) 4-20 mA Input Ports
(1) Beacon Port
(1) Rope Leak Sensor Port

Communications & Management:
Protocols
HTTP, HTTPS, SCP, SMTP, SSH V1,SSH V2,TCP/IP, Telnet
TCP/IP, HTTP, HTTPS, SMTP, SNMP v1, v2c, and v3, DHCP, DNS, Socks v4 or V5 Proxy Server, A-Link
DHCP, DNS, HTTP, HTTPS, SMTP, SOCKS, TCP/IP
Network Interface Connections
RJ-45 10/100 Base-T
Management Interface
Internet Explorer® v 5.5 or later; Netscape® v 7.x or later; Firefox® 1.0 or later
Internet Explorer® v 5.5 or later; Netscape® v 4.79, 5.0 or later; Mozilla® 1.3 or later; Firefox® 2.0 or later; NetBotz Advanced View Software
Client System Requirements
TCP/IP Wizard runs on computers with Microsoft Windows operating systems (XP, 2000, 2003, NT®)
Microsoft Windows (Vista Business and Enterprise, XP SP1-3, 2000), Red Hat EL4 and EL5, 512 MB RAM.
Use of Advanced View interface requires a one-time download of the Sun™ Java Runtime Environment™.
Physical:
Net Weight
3.15 lbs. (1.43 kg)
3.83 lbs. (1.74 kg)
3.83 lbs. (1.74 kg)
Maximum Height
4.45 inches (113 mm)
4.49 inches (114 mm)
43.00 mm
Maximum Width
20.75 inches (527 mm)
20.75 inches (527 mm)
432.00 mm
Maximum depth
4.45 inches (113 mm)
6.42 inches (163 mm)
93.00 mm
Environmental:
Operating Relative Humidity
32 - 113 °F (0 - 45 °C)
Storage Relative Humidity
5 - 149 °F (-15 - 65 °C)
Operating Relative Humidity
0 - 95%, non-condensing
Storage Relative Humidity
0 - 95%, non-condensing
Operating Elevation
0-10000 feet (0-3000 meters)
Storage Elevation
0-50000 feet (0-15000 meters)
Conformance:
Regulatory Approvals
AS/NZS 3548 (C-Tick) Class A, cUL Listed, CE, FCC Part 15 Class A, ICES-003, Low Voltage Directive 2006/95/EC, PSE, UL Listed, VCCI Class A, VDE
AS/NZS 3548 (C-Tick) Class A, cUL Listed, CE, FCC Part 15 Class A, GOST, ICES-003, IRAM, Low Voltage Directive 2006/95/EC, NOM, UL Listed, VCCI Class A, VDE
Standard Warranty
2 years repair or replace