APC Smart-UPS VT rack mounted 20kVA 480V in, 208V out w/5 batt mod. , w/PDU & startup

APC Smart-UPS VT, 16 kW / 20 kVA, Input 480V 3PH / Output 120V, 208V, 208V 3PH, Interface Port DB-9 RS-232, SmartSlot, Extended runtime model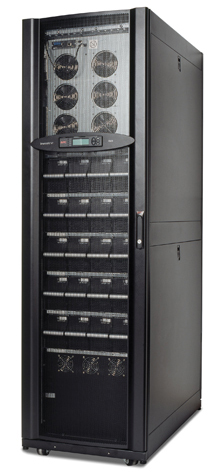 Includes: CD with software, Installation guide, Network Management Card, Power modules ship installed, Smart UPS signalling RS-232 cable, Start up included, User Manual
APC Products
APC Smart-UPS VT
APC Smart-UPS VT rack mounted 20kVA 480V in, 208V out w/5 batt mod. , w/PDU & startup
#SUVTR20KG5B5S
List Price:
$34,520.00
Our Price: $27,900.00
More pricing below, click here!
Overview:
Compact three phase power protection with excellent efficiency and hot scalable runtime for small data centers and other business critical applications
Smart-UPS VT offers centralized three-phase power protection with the reliability of the award winning Smart-UPS family. Ideal for small data centers, large retail stores, regional offices, and dense power requirements, the Smart-UPS VT includes dual-mains input, automatic and maintenance bypasses, and scalable runtime with Hot-swappable batteries for increased availability. The rack mounted version maximizes valuable floor space by incorporating UPS, power distribution, and additional battery capacity in a single rack. Low cost of ownership is achieved through best-in-class efficiency and a reduction in rating of electrical infrastructure - wires, transformers, and generators due the Smart-UPS VT's Soft Start feature. The APC Network Management Card with temperature monitoring provides remote monitoring and management through a simple Web/SNMP interface and provides integration with InfraStruXure® Manager. Serviceability is greatly enhanced by user-replaceable batteries, manageable extended run frames and included start-up and standard onsite warranty services. All these features make the Smart-UPS VT the easiest UPS in its class to deploy, manage and maintain.
Features & Benefits:
SUVTR20KG5B5S Features
Resettable circuit breakers
Enables a quick recovery from overload events.
Field-replaceable power distribution panel
Ensures compatibility with equipment that has different plug types.
Multiple cable-entry points
Provides flexibility of UPS placement in the room and easy access to install cabling to the terminal blocks.
Locking cabinet
Prevents unauthorized access to the UPS.
Availability
Dual mains input
Increases availability by allowing the UPS to be connected to two separate power sources.
Scalable runtime
Allows additional run time to be quickly added as needed.
Hot-swappable batteries
Ensures clean, uninterrupted power to protected equipment while batteries are being replaced.
Generator compatible
Ensures clean, uninterrupted power to protected equipment when generator power is used.
Automatic internal bypass
Supplies utility power to the connected loads in the event of a UPS overload condition or fault.
Battery modules connected in parallel
Delivers higher availability through redundant batteries.
Serviceability
Battery replacement without tools
Allows quick, easy battery replacement.
Automatic self-test
Periodic battery self-test ensures early detection of a battery that needs to be replaced.
Shippable with modules installed
Enables pre-installation UPS staging and testing and faster installation.
Modular design
Provides fast serviceability and reduced maintenance requirements via self-diagnosing, field-replaceable modules.
Manageability
Network manageable
Provides remote management of the UPS over the network.
InfraStruXure Manager Compatible
Enables centralized management via the APC InfraStruXure Manager.
LCD display
Alpha-Numeric Display which displays system parameters and alarms.
Audible alarms
Provides notification of changing utility power and UPS conditions.
Programmable frequency
Ensures compatibility with different input frequencies.
LED status indicators
Quickly understand unit and power status with visual indicators.
SmartSlot
Customize UPS capabilities with management cards.
Total Cost of Ownership
Input power factor correction
Minimizes installation costs by enabling the use of smaller generators and cabling.
Temperature-compensated battery charging
Prolongs battery life by regulating the charge voltage according to battery temperature.
Manual maintenance bypass
Reduces installation costs by eliminating the need for an external mechanical bypass.
Intelligent battery management
Maximizes battery performance, life, and reliability through intelligent, precision charging.
Safety
Frequency and voltage regulation
Gives higher application availability by correcting poor frequency and voltage conditions without using the battery.
Safety-agency approved
Ensures the product has been tested and approved to work safely with the connected service provider equipment and within the specified environment.
Cold-start capable
Provides temporary battery power when the utility power is out.
Technical Specifications:
Output
Output Power Capacity
16 kW / 20 kVA
Max Configurable Power
16 kW / 20 kVA
Nominal Output Voltage
120V, 208V, 208V 3PH
Output Voltage Note
Configurable for 200 : 208 or 220V 3 Phase nominal output voltage
Efficiency at Full Load
93.8%
Output Voltage Distortion
Less than 5% at full load
Output Frequency (sync to mains)
57 - 63 Hz for 60 Hz nominal
Crest Factor
Unlimited
Topology
Double Conversion Online
Waveform Type
Sine wave
Output Connections
(1) Hard Wire 5-wire (3PH + N + G)
(5) NEMA L21-20
Overload Operation
60 seconds @ 125% and 30 seconds @ 150%
Bypass
Built-in Maintenance Bypass, Built-in Static Bypass
Input
Nominal Input Voltage
480V 3PH
Input Frequency
40 - 70 Hz (auto sensing)
Input Connections
Hard Wire 4-wire (3PH + G)
Input voltage range for main operations
408 - 552 (480)V
Input Breaker Capacity
40.0  A
Batteries & Runtime
Battery Type
VRLA
Included Battery Modules
5
Typical recharge time
3 hour(s)
Replacement Battery
SYBT4
RBC™ Quantity
5
Extended Run Options
APC Smart-UPS VT rack mounted 20kVA 480V in, 208V out w/5 batt mod. , w/PDU & startup
Communications & Management
Interface Port(s)
DB-9 RS-232, SmartSlot
Pre-Installed SmartSlot™ Cards
AP9631
Control panel
Multi-function LCD status and control console
Audible Alarm
Audible and visible alarms : configurable delays
Emergency Power Off (EPO)
Yes
Physical
Maximum Height
78.54 inches (1995 mm)
Maximum Width
23.62 inches (600 mm)
Maximum Depth
42.32 inches (1075 mm)
Net Weight
2290.00 lbs. (1040.91 kg)
Shipping Weight
2367.00 lbs. (1075.91 kg)
Shipping Height
78.54 inches (1995 mm)
Shipping Width
23.62 inches (600 mm)
Shipping Depth
42.32 inches (1075 mm)
Color
Black
Units per Pallet
1
Environmental
Operating Environment
32 - 104°F (0 - 40°C)
Operating Relative Humidity
0 - 95%
Operating Elevation
0-3333 feet (0-999.9 meters)
Storage Temperature
-58 - 104 °F (-50 - 40 °C)
Storage Relative Humidity
0 - 95%
Storage Elevation
0-50000 feet (0-15000 meters)
Audible noise at 1 meter from surface of unit
58.00 dBA
Online Thermal Dissipation
4238.00 BTU/hr
Protection Class
NEMA 1
Conformance
Regulatory Approvals
cUL Listed, ISO 14001, ISO 9001, UL 1778
Standard Warranty
1 year repair or replace, Start-Up Service
Pricing Notes:
Pricing and product availability subject to change without notice.
Note: Shipping charges may vary depending on the selected unit's weight or the quantity of units selected. As a result, the shipping charges may change from the value you receive at checkout. A customer representative will confirm these changes with you if they occur before processing your order.
APC Products
APC Smart-UPS VT
APC Smart-UPS VT rack mounted 20kVA 480V in, 208V out w/5 batt mod. , w/PDU & startup
#SUVTR20KG5B5S
List Price:
$34,520.00
Our Price: $27,900.00
Interface Connections
UPS Network Management Card 2 with Environmental Monitoring
#AP9631
List Price:
$687.00
Our Price: $539.00