APC Rack Side Air Distribution

Rack Air distribution for power dense racks and low pressure areas

Includes: Installation guide, Rack Mounting brackets, User Manual
Looking for Better Pricing? Please Contact Us for help!
APC Products
APC Rack Side Air Distribution
APC Rack Side Air Distribution 2U 115V 60HZ
#ACF201BLK
Our Price: $789.00
APC Rack Side Air Distribution 2U 208/230V 50/60HZ
#ACF202BLK
Our Price: $789.00
More pricing below, click here!
Rack Side Air Distribution 2U 115V 60HZ and 208/230V 50/60HZ:
Housing equipment with side to side airflow creates many challenges for IT and facility managers, particularly in regards to cooling. Because most enclosures are designed for a front to back airflow pattern, it is difficult to maintain ideal operating temperatures on side to side airflow equipment. The Rack Side Air Distribution Unit is a 2U rack mountable air distribution product for networking equipment or servers with side to side airflow. It pulls in conditioned air from the front of the rack and distributes it to the side air intake of the networking equipment.

Features & Benefits:
Availability
Dual fans
Provides fault tolerance in the event of a fan failure.
Minimizes Air Mixing
Delivers cool, conditioned air directly from the raised floor to the inlet of the IT equipment.
Agility
Air Filtration
Removes dirt and other particulates from the intake air for cleaner supply air.
Fan control switches
Users can turn one or both fans on and off depending on the heat load.
Mounting rails
Adjustable depth allows the unit to fit APC NetShelter enclosures or other 19" EIA-310-D enclosures.
Fan guards
A safety measure that provides protection from the fan opening by covering the inlet.
Total Cost of Ownership
Dual A-B Power Inputs
Draws power from the UPS for power protection with dual feeds for redundancy.
Product Views: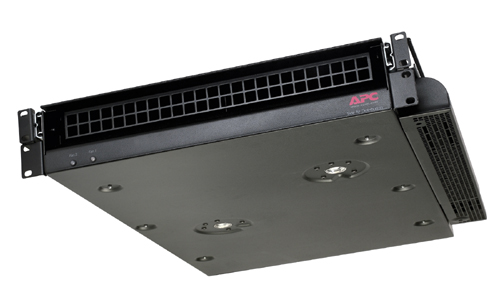 Bottom View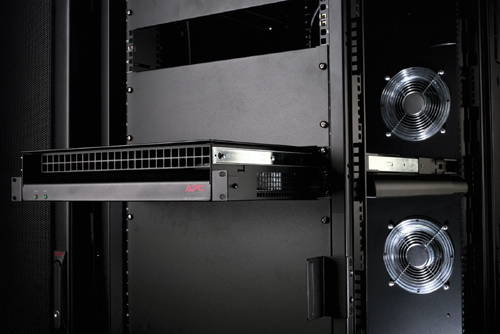 Appliance Input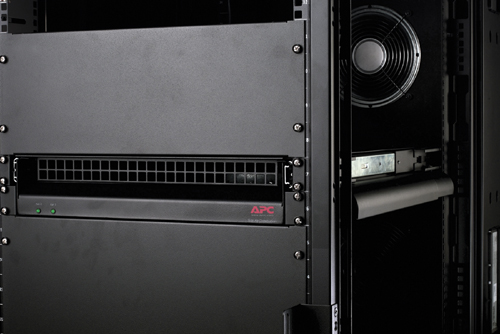 Technical Specifications:
General
Air Flow
260 CFM
Amp Draw Nominal
115V 60HZ: 2A
208/230V 50/60HZ: 1A
Input
Nominal Input Voltage
115V 60HZ: 120V
208/230V 50/60HZ: 200V,208V,230V
Input Power
115V 60HZ: 150 Watts
Input Frequency
115V 60HZ: 60 Hz +/- 1Hz
208/230V 50/60HZ: 50/60 Hz
Rack Height
2U
Input Connections

115V 60HZ: C-13
NEMA 5-15P

208/230V 50/60HZ: C-13
IEC-320 C14

Communications & Management
Control panel
Power on/off indicator
Physical
Maximum Height
3.44 inches (87 mm)
Maximum Width
16.98 inches (431 mm)
Maximum Depth
26.34 inches (669 mm)
Net Weight
32.00 lbs. (14.56 kg)
Shipping Weight
43.00 lbs. (19.56 kg)
Shipping Height
9.50 inches (241 mm)
Shipping Width
26.00 inches (660 mm)
Shipping Depth
31.00 inches (787 mm)
Color
Black
Conformance
Regulatory Approvals
UL Recognized
Standard Warranty
2 years repair or replace
Pricing Notes:
Pricing and product availability subject to change without notice.
Note: Shipping charges may vary depending on the selected unit's weight or the quantity of units selected. As a result, the shipping charges may change from the value you receive at checkout. A customer representative will confirm these changes with you if they occur before processing your order.
Looking for Better Pricing? Please Contact Us for help!
APC Products
APC Rack Side Air Distribution
APC Rack Side Air Distribution 2U 115V 60HZ
#ACF201BLK
Our Price: $789.00
APC Rack Side Air Distribution 2U 208/230V 50/60HZ
#ACF202BLK
Our Price: $789.00