APC Replacement Battery Cartridge #63

Best Value Battery Replacements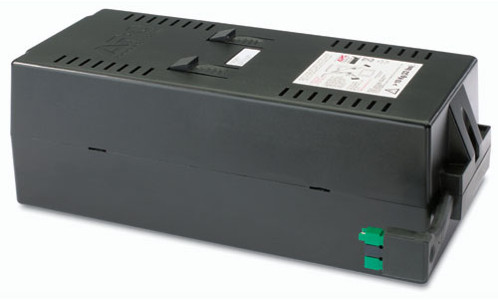 Looking for Better Pricing? Please Contact Us for help!
APC Products
APC Replacement Battery Cartridges
APC Replacement Battery Cartridge #63
#RBC63
Get a Quote!

Battery replacement without tools: Enables fast battery replacement, lowering Mean Time to Repair (MTTR).
Disconnected battery notification: Warns when a battery is not available to provide backup power.
Intelligent battery management: Maximizes battery performance, life, and reliability through intelligent, precision charging.
Temperature-compensated battery charging: Prolongs battery life by regulating the charge voltage according to battery temperature.
Technical Specifications:
Output
Battery Output Voltage
48
Batteries & Runtime
Battery type
Maintenance-free sealed Lead-Acid battery with suspended electrolyte : leakproof
Battery mounting
Enclosed battery cartridge
Expected Battery Life (years)
3 - 5
Physical
Maximum Height
13.3inches ( 338mm , 33.8CM )
Maximum Width
7.8inches ( 198mm , 19.8CM )
Maximum Depth
4.4inches ( 112mm , 11.2CM )
Net Weight
25.5lbs. ( 11.59KG )
Shipping weight
27.5lbs. ( 12.5KG )
Shipping Height
16.4inches ( 417mm , 41.7CM )
Shipping Width
10.5inches ( 267mm , 26.7CM )
Shipping Depth
8.5inches ( 216mm , 21.6CM )
Color
Black
Environmental
Operating Temperature
32 - 113 °F ( 0 - 45 °C )
Operating Relative Humidity
0 - 95 %
Operating Elevation
0-10000ft ( 0-3000meters )
Storage Temperature
0 - 45 °C
Storage Relative Humidity
0 - 95 %
Storage Elevation
0-50000ft ( 0-15000meters )
Conformance
Standard warranty
2 years repair or replace