APC Replacement Battery Cartridge #48

Best Value Battery Replacements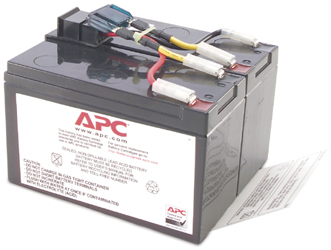 Looking for Better Pricing? Please Contact Us for help!
APC Products
APC Replacement Battery Cartridges
APC Replacement Battery Cartridge #48
#RBC48
Get a Quote!
Models Supported: SUA750, SUA750I, SUA750US
Includes: All required connectors, Battery recycling guide, Installation guide, Reusable packaging
Hot-swappable batteries: Ensures clean, uninterrupted power to protected equipment while batteries are being replaced
User-replaceable batteries: Increases availability by allowing a trained user to perform upgrades and replacements of the batteries reducing Mean Time to Repair (MTTR)
Battery replacement without tools: Allows quick, easy battery replacement.
Technical Specifications:
Batteries & Runtime
Battery Volt-Amp-Hour Capacity
168
Battery Type
Maintenance-free sealed Lead-Acid battery with suspended electrolyte: leakproof
Battery mounting
Stand alone battery stack
Battery manufacturer
--
Expected Battery Life (years)
3 - 5
RBC™ Quantity
1
Battery blocks per string
2
Physical
Net Weight
11.00 lbs. (5.00 kg)
Maximum Height
4.25 inches (108 mm)
Maximum Width
5.20 inches (132 mm)
Maximum Depth
5.90 inches (150 mm)
Shipping Weight
13.00 lbs. (5.91 kg)
Shipping Height
6.60 inches (168 mm)
Shipping Width
6.60 inches (168 mm)
Shipping Depth
8.80 inches (224 mm)
Color
Black
Units per Pallet
40.00
Environmental
Operating Environment
32 - 104°F (0 - 40°C)
Operating Relative Humidity
0 - 95%
Operating Elevation
0-10000 feet (0-3000 meters)
Storage Temperature
5 - 113°F (-15 - 45°C)
Storage Relative Humidity
0 - 95%
Storage Elevation
0-50000 feet (0-15000 meters)
Conformance
Standard Warranty
1 years repair or replace