APC ProtectNet

Standalone data-line surge suppression for network, telecommunication and PC system protection.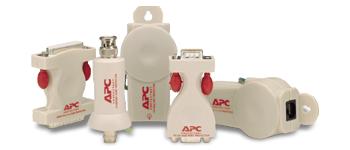 The re-invention of the most relied upon desktop UPS in history: the Back-UPS!
The majority of all surge-induced damage is caused by surges and spikes traveling along unprotected data lines. These surges originate from a wide variety of sources, including static charge buildup and lightning strikes. Left unprotected, your data lines expose network cards, A/V components, modems and other network equipment to damaging electrical transients. The ProtectNet family of stand-alone surge suppressors protects individual data lines, including telephone and network lines, coax cables, and more. Inserting a ProtectNet in your data line and connecting it to earth ground prevents back-door surges from ruining your productivity and costing you money.
Features & Benefits:
Protection
Data-line Protection
Protection against powers spikes traveling through data lines ensures complete protection of your equipment from surges. It is very important to protect your equipment from "back door" surges traveling through data lines, as they can be as damaging to your equipment as surges traveling over power lines.
Fail Safe Mode
Most other surge suppressors continue to let power through even after their circuits have been damaged, leaving your equipment exposed to future surges. APC's Surge Protectors fail safe, which means that once the circuit of an APC Surge Protector has been compromised the unit disconnects equipment from the power supply ensuring that no damaging surges reach your equipment.
Lightning and Surge Protection
A fast-acting fuse reacts instantaneously to lightning strikes and other spikes. A thermal fuse shuts down safely if there is a wiring fault.
APC ProtectNet® Products
PNET1GB - APC ProtectNet with Gigabit Protection

RJ45 10/100/1000 Base-T Ethernet protection

#PNET1GB


Our Price: $42.00

PS9-DTE - APC ProtectNet RS232 9 Pin Female to Male

#PS9-DTE


Our Price: $36.00

PTEL2 - APC ProtectNet Telecom 2 Line

RJ-45 Modem/Fax/DSL protection (four wire dual line)

#PTEL2


Our Price: $42.00

Modular data-line surge suppression for network, telecommunication and PC system protection
APC Rack-mount ProtectNet® Products
PNETR6 - APC Surge Module for CAT6 or CAT5/5e Network Line, Replaceable, 1U, use with PRM4 or PRM24 Chassis

Protects an ethernet data port from damaging transients. Supports Cat5, Cat5E and Cat6 cabling standards. Compatible with Power Over Ethernet (POE) and network speeds up to 10GbE (10GigE)

#PNETR6


Our Price: $37.00

PTEL2R - APC Surge Module for Analog Phone Line, Replaceable, 1U, use with PRM4 or PRM24 Rackmount Chassis

RJ-11 Modem/Fax protection
(four wire dual line)
RJ-11 Modem/Fax protection
(two wire single line)
RJ-11 Modem/Fax/DSL protection
(four wire dual line)
RJ-11 Modem/Fax/DSL protection
(two wire single line)
RJ-45 Modem/Fax protection
(four wire dual line)
RJ-45 Modem/Fax protection
(two wire single line)
RJ-45 Modem/Fax/DSL protection
(four wire dual line)

#PTEL2R


Our Price: $34.00

PRM24 - 19" Chassis, 1U, 24 Channels, For Replaceable Data Line Surge Protection

#PRM24


Our Price: $63.00