APC Power Saving Back-UPS NS 1080VA

APC Back-UPS Pro,650 Watts /1080 VA,Input 120V /Output 120V, Interface Port USB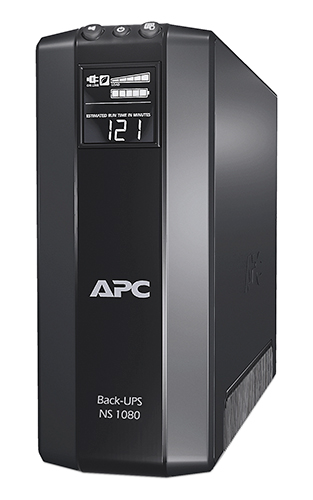 Includes: USB cable, User Manual
Sorry, this product is no longer available, please contact us for a replacement.
Premium Battery Backup with Surge Protection for High Performance Electronics and Computers
The Back-UPS Pro family offers guaranteed power protection for high performance computer systems, routers/modems, external storage devices, game consoles and other electronics in your home or business. Models supply abundant battery backup during outages and stabilize unsafe voltage levels. They provide protection from damaging surges and spikes, and allow the use of management software so you get the most out of your unit. Premium features of this family include Automatic Voltage Regulation (AVR), an LCD display, and energy saving functions that reduce electricity use. Together with the rest of the Back-UPS Pro's standard features, they are the perfect choice to protect your data and keep your system available.
Features & Benefits:
Protection
Battery and surge protected outlets
Back up and protect your hardware and data during power outages, surges and spikes.
Dataline surge protection
Provides protection of connected equipment from power surges on the data lines.
Surge only outlets
Protect secondary electronics from surges and spikes without reducing battery power used to run primary electronics during an outage.
Availability
Energy Management Function
Energy saving feature automatically power off peripherals when the a master device, usually a PC, hibernates or is shut down. Power to peripherals is immediately restored when the master device wakes up or is switched on.
Boost and Trim Automatic Voltage Regulation (AVR)
Gives higher application availability by correcting low and high voltage conditions without using the battery (not available on all models).
Green mode
Patent-pending operating mode that bypasses unused electrical components in good power conditions to achieve very high operating efficiency without sacrificing any protection.
Customizable voltage-transfer points
Adjust the voltage points (widen or tighten the range) where your UPS transfers to battery to maximize useful battery life and protect sensitive electronics.
Customizable voltage sensitivity
Toggle between pre-determined voltage-transfer points depending on your power quality (high, medium or low sensitivity), maximizing useful battery life and protecting sensitive electronics.
Intelligent battery management
Maximizes battery performance, life, and reliability through intelligent, precision charging.
Cold-start capable
Provides temporary battery power when the utility power is out.
Battery failure notification
Provides early-warning fault analysis on batteries enabling timely preventive maintenance
Automatic self-test
Periodic battery self-test ensures early detection of a battery that needs to be replaced.
Transformer-block spaced outlets
Protect equipment with input transformer blocks without blocking access to other receptacles.
Serviceability
Resettable circuit breaker
Easy recovery from overloads; no need to replace a fuse.
Simple battery replacement
Increases UPS availability by allowing quick, easy battery replacement.
Manageability
USB connection
Use your PC to access additional power protection and management features for your UPS via a USB Port.
LCD Status Display
Provides key UPS status at a glance. Multiple status indicators with load and battery bar graphs.
Audible alarms
Provides notification of changing utility power and UPS power conditions
Disconnected battery notification
Warns when a battery is not available to provide backup power.
Safety
Safety-agency approved
Ensures the product has been tested and approved to work safely with the connected service provider equipment and within the specified environment.
Runtime Chart:
120V
Watts
50
100
200
300
400
500
600
700
800
Full
Half
BG500
24 min
12 min
6 min
4 min
-
-
-
-
-
4 min (300 Watts)
8 min (150 Watts)
BR700G
1 hrs 7 mins
33 min
14 min
8 min
5 min
-
-
-
-
4 min (420 Watts)
13 min (210 Watts)
BR1000G
1 hrs 57 mins
57 min
24 min
14 min
9 min
5 min
3 min
-
-
3 min (600 Watts)
14 min (300 Watts)

BN1080G

2 hrs 27 mins
1 hrs 4 mins
26 min
14 min
9 min
6 min
4 min
-
3 min (650 Watts)
13 min (325 Watts)

BR1300G

2 hrs 8 mins
1 hrs 9 mins
33 min
21 min
14 min
10 min
8 min
6 min
-
5 min (780 Watts)
15 min (390 Watts)

BX1300G

2 hrs 0 mins
57 mins
25 min
15 min
9 min
6 min
5 min
6 min
-
2 min (780 Watts)
10 min (390 Watts)
BR1500G
2 hrs 8 mins
1 hrs 9 mins
33 min
21 min
14 min
10 min
8 min
6 min
4 min
4 min (865 Watts)
13 min (432.5 Watts)
BR1500 + (1)BR24BPG
7 hrs 26 mins
3 hrs 52 mins
1 hrs 50 mins
1 hrs 9 mins
49 min
37 min
29 min
24 min
20 min
17 min (865 Watts)
48 min (432.5 Watts)
BX1500
2 hrs 8 mins
1 hrs 9 mins
33 mins
21 mins
14 min
10 min
8 min
6 min
4 min
4 min (865 Watts)
13 min (432.5 Watts)
Technical Specifications:
Output
Output Power Capacity
650 Watts / 1080 VA
Max Configurable Power
650 Watts / 1080 VA
Nominal Output Voltage
120V
Output Frequency (sync to mains)
60Hz +/- 3 Hz
Other Output Voltages
110
Crest Factor
3 : 1
Topology
Line Interactive
Waveform Type
Stepped approximation to a sinewave
Output Connections
(4) NEMA 5-15R (Battery Backup)


(4) NEMA 5-15R (Surge Protection)

Input
Nominal Input Voltage
120V
Input Frequency
60 Hz +/- 3 Hz
Input Connections
NEMA 5-15P
Cord Length
6 feet (1.83 meters)
Input voltage range for main operations
88 - 139V
Maximum Input Current
12A
Input Breaker Capacity
15  A
Batteries & Runtime
Battery Type
Maintenance-free sealed Lead-Acid battery with suspended electrolyte: leakproof
Typical recharge time
16 hour(s)
Replacement battery cartridge
APCRBC123
RBC™ Quantity
1
Runtime Graph

This graph is based on actual measured runtime data. All measurements were taken with new, fully charged batteries and a balanced resistive load (PF = 1.0). Actual runtimes may vary from the values of this graph. Actual runtimes are dependent on several variables including battery age, battery charge level, environmental conditions and characteristics of the connected load.

Energy Use/Efficiency

| | |
| --- | --- |
| Load | Efficiency |

Hover over the line on the graph above to view the efficiency at any desired load

Curve fit of data measured in accordance with the ENERGY STAR Program Requirements Product Specification for Uninterruptible Power Supplies (UPSs) - Eligibility Criteria Version 1.0. All measurements taken in normal mode(s), at typical environmental conditions, with 120V/60Hz electrical input and balanced resistive load (PF = 1.0) output.

Communications & Management
Interface Port(s)
USB
Control Panel
Multi-function LCD status and control console
Audible Alarm
Alarm when on battery : distinctive low battery alarm : overload continuous tone alarm
Surge Protection and Filtering
Surge Energy Rating
354 Joules
Filtering
Full time multi-pole noise filtering :5% of IEEE surge let-through : zero clamping response time: instantaneous
Data Line Protection
Analog phone line for phone/fax/modem/DSL (RJ-11 connector), Network line - 10/100 Base-T Ethernet (RJ-45 connector), Coaxial cable for CATV/SATV/modem/Audio-Video (coax connector)
Physical
Maximum Height
9.84 inches (190 mm)
Maximum Width
3.94 inches (91 mm)
Maximum Depth
15.04 inches (310 mm)
Net Weight
23.58 lbs. (10.72 kg)
Shipping Weight
25.74 lbs. (11.70 kg)
Shipping Height
13.27 inches (252 mm)
Shipping Width
8.86 inches (225 mm)
Shipping Depth
19.17 inches (487 mm)
Master Carton Units
1.00
Master Carton Weight
2.00 lbs. (0.91 kg)
Color
Black
SCC Codes
1073130430278 7
Units per Pallet
32.00
Pallet Weight
865.22 lbs. (393.28 kg)
Environmental
Operating Environment
32 - 104°F (0 - 40°C)
Operating Relative Humidity
0 - 95%
Operating Elevation
0-9842 feet (0-2952.6 meters)
Storage Temperature
5 - 113°F (-15 - 45°C)
Storage Relative Humidity
0 - 95%
Storage Elevation
0-49212 feet (0-14763.6 meters)
Audible noise at 1 meter from surface of unit
45.00 dBA
Conformance
Regulatory Approvals
California (CEC) Battery Charger, DOC/Industry Cananda, ENERGY STAR (USA), UL Listed
Standard Warranty
3 years repair or replace
Equipment protection policy
Lifetime: $150,000
Sustainable Offer Status
RoHS
Compliant
REACH
REACH: Contains No SVHCs
**The time to recharge to 90% of full battery capacity following a discharge to shutdown using a load rated for 1/2 the full load rating of the UPS.