APC Back-UPS Connect 90, 120V, Network backup, USB charging ports

APC Back-UPS Connect, 75 Watts /125 VA, Input 120V /Output 120V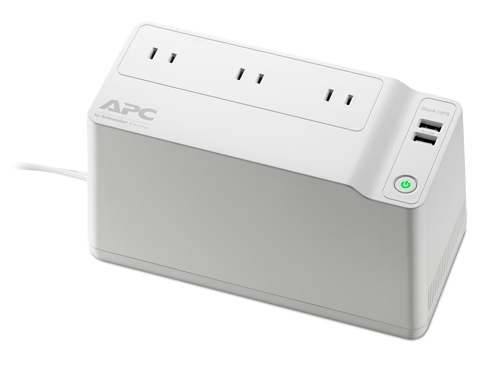 Includes: User Manual
Sorry, this product is no longer available, Please contact us for a replacement.
Extended Runtime UPS for Network Gateway Devices
Back-UPS Connect is an innovative UPS product family that is designed to power networking equipment for prolonged periods of time during blackouts. Run a router, modem and other low-power devices for 3 to 5 hours during a power outage. Access to the internet is a critical component of our personal and professional lives. Unfortunately, power outages break our lines of communication for business operations, news and weather updates, and restrict us from contacting friends and family. At APC by Schneider Electric, we understand the network is critical to your everyday life. Back-UPS Connect will keep your network running, even when the power goes out.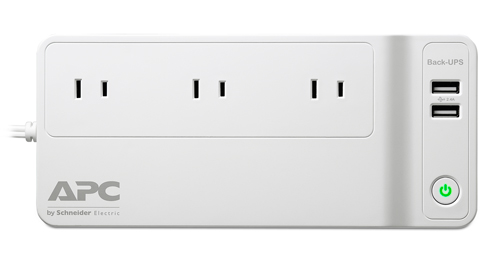 You depend on your network every day. Stay connected to the Internet during power outages by backing up home networking equipment and charging your smart devices with Back-UPS Connect.
Get news/weather updates
Make phone/video calls
Check email
Update social media
Maintain home automation and security systems
Stream movies
Continue gaming
Storms and power outages can easily sever your network connection, just when you need it the most. Losing Internet access breaks our line of communication for business operations, news and weather updates, and restricts us from contacting friends and family. The BGE90M will keep your network up and running for hours and charge your mobile devices as needed.
4.5 hours of network power for extended outages. An efficient design maximizes runtime for low-power devices, even outperforming larger UPSes on equivalent low-power loads.
Two convenient USB ports to recharge smartphones and tablets.
Computer-grade surge protection protects your devices from surges and spikes.
Fast recharge of the internal battery ensures you're ready for the next outage.
Best-in-Class 3 Year Warranty ensures peace of mind. Additionally, we provide a $75 000 lifetime equipment protection policy and free technical support.
Features & Benefits:
Features
Battery and surge protected outlets 
Back up and protect your hardware and data during power outages, surges and spikes.
USB charging ports 
Simultaneously charge mobile devices, including smartphones and tablets.
Resettable circuit breaker 
Easy recovery from overloads; no need to replace a fuse.
Protection
Battery backup and surge protection
Outlets provide abundant runtime for network gateway equipment and other critical low-power devices, allowing for hours of internet access during a power outage.
Serviceability
Simple battery replacement
Increases UPS availability by allowing quick, easy battery replacement.
Resettable circuit breaker
Easy recovery from overloads; no need to replace a fuse.
Manageability
LED status display
Quickly understand unit and power status with visual indicators.
Technical Specifications:
Output
Output Power Capacity
75 Watts / 125 VA
Max Configurable Power
75 Watts / 125 VA
Nominal Output Voltage
120V
Output Frequency (sync to mains)
50/60 Hz +/- 1 Hz
Waveform Type
Square wave
Output Connections
(3) NEMA 1-15R (Battery Backup)
Input
Nominal Input Voltage
120V
Input Frequency
50/60 Hz
Input Connections
NEMA 5-15P
Cord Length
5 feet (1.52 meters)
Input voltage range for main operations
90 - 140V
Input Breaker Capacity
4  A
Batteries & Runtime
Battery Type
Maintenance-free sealed Lead-Acid battery with suspended electrolyte : leakproof
Typical recharge time
6 hour(s)
Replacement Battery (Service center technician only)
APCRBC106
Runtime Graph

Hover over the line on the graph above to view the efficiency at any desired load

Curve fit of data measured in accordance with the ENERGY STAR Program Requirements Product Specification for Uninterruptible Power Supplies (UPSs) - Eligibility Criteria Version 1.0. All measurements taken in normal mode(s), at typical environmental conditions, with 120V/60Hz electrical input and balanced resistive load (PF = 1.0) output.

Communications & Management
Control Panel
LED status display with On Line : On Battery : Replace Battery and Overload indicators
Audible Alarm
Alarm when on battery : distinctive low battery alarm : overload continuous tone alarm
Surge Protection and Filtering
Surge Energy Rating
120 Joules
Physical
Maximum Height
5.20 inches (132 mm)
Maximum Width
4.13 inches (105 mm)
Maximum Depth
8.86 inches (225 mm)
Net Weight
6.61 lbs. (3.00 kg)
Shipping Weight
7.28 lbs. (3.30 kg)
Shipping Height
8.03 inches (204 mm)
Shipping Width
6.46 inches (164 mm)
Shipping Depth
11.77 inches (299 mm)
Master Carton Units
2.00
Master Carton Weight
15.43 lbs. (7.00 kg)
Color
White
SCC Codes
1073130431411 7
Units per Pallet
72.00
# of Layers per Pallet
4
Environmental
Operating Environment
32 - 104°F (0 - 40°C)
Operating Relative Humidity
0 - 95%
Operating Elevation
0-3000 feet (0-900 meters)
Storage Temperature
5 - 113°F (-15 - 45°C)
Storage Relative Humidity
0 - 95%
Storage Elevation
0-15000 feet (0-4500 meters)
Audible noise at 1 meter from surface of unit
45.00 dBA
Conformance
Regulatory Approvals
California (CEC) Battery Charger, FCC Part 15 Class B, NOM, TUV-NURTL
Standard Warranty
3 years repair or replace
Equipment protection policy
Lifetime : $75000
Sustainable Offer Status
RoHS
Compliant
REACH
REACH: Contains No SVHCs
**The time to recharge to 90% of full battery capacity following a discharge to shutdown using a load rated for 1/2 the full load rating of the UPS.