APC NetShelter WX AR100HD Enclosure

NetShelter WX 13U w/Threaded Hole Vertical Mounting Rail Glass Front Door Black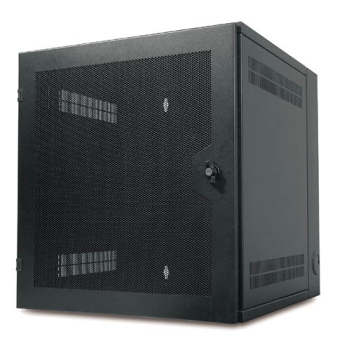 Looking for Better Pricing? Please Contact Us for help!
APC Products
APC NetShelter WX
NetShelter WX 13U w/Threaded Hole Vertical Mounting Rail Vented Front Door Black
#AR100HD
Our Price: $1,015.00
More pricing below, click here!
Wall-mounted rack enclosures for networking applications in IT environments.
NetShelter WX Enclosures are specifically designed for networking professionals to securely store and wire 19" EIA compatible equipment such as hubs, routers, concentrators and patch panels. Typical applications include small hub and LAN applications within wiring closets and computer rooms with floor space constraints. The NetShelter Wall-Mount Enclosure mounts directly to building walls without occupying valuable or unavailable floor space. Rubber feet are provided with the enclosure for those applications that require floor mounting.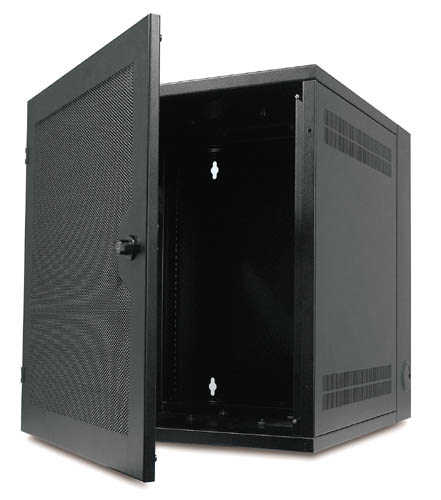 Features & Benefits:
Convenience
Wall-mountable
Four "key hole" slots spaced 16" apart on the rear door allow the enclosure to mount directly to building walls. A template is provided to assist in locating the proper hole placement.
Multi-purpose mounting rails
NetShelter WX Enclosures ships with the front vertical mounting rails oriented such that #12-24 tapped holes are useable for mounting equipment. The front rails are also field-reversible to provide square mounting holes for use with caged nuts.
Adjustable front rail
The front mounting rails can be adjusted to allow for various mounting depths and to allow for additional clearance from the front door.
Labeled U positions
APC has eliminated the pain involved in determining where to install rack-mount devices within an enclosure by labeling each vertical mounting rail with the actual U positions.
Unit symmetry
Left or right hand door swing operation can be obtained depending on orientation selected upon installation.
Integrated cable access holes
Eight 2-inch cable access holes are located at the top, sides, and bottom of the rear door for ample cabling provisions. Grommets and caps are included.
Rubber feet
Four rubber feet are provided for optional floor mounting.
Serviceability
Double-hinged design
Provides front and rear access to installed equipment.
Availability
Ventilated
Front Doors and Side Panels are perforated to provide ventilation for components typically installed. Fully ventilated and partially ventilated front doors are available.
Protection
Lockable Doors
All NetShelter WX Enclosures include key Lockable front doors to prevented unwanted access.
Pricing Notes:
Pricing and product availability subject to change without notice.
Note: Shipping charges may vary depending on the selected unit's weight or the quantity of units selected. As a result, the shipping charges may change from the value you receive at checkout. A customer representative will confirm these changes with you if they occur before processing your order.
Looking for Better Pricing? Please Contact Us for help!
APC Products
APC NetShelter WX
NetShelter WX 13U w/Threaded Hole Vertical Mounting Rail Vented Front Door Black
#AR100HD
Our Price: $1,015.00