APC NetBotz Rack Access PX - HID

Proximity card rack access control system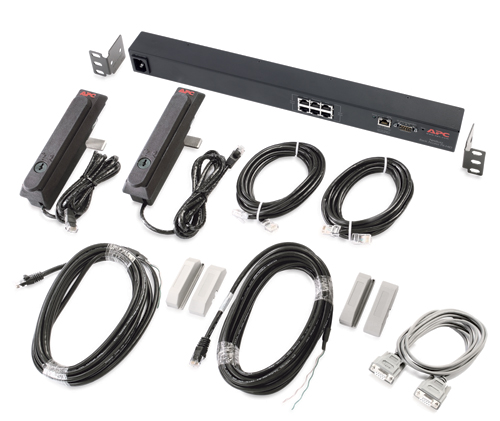 APC NetBotz Rack Access PX Overview:
Network appliances enabling remote and local access control for your NetShelter SX enclosures.
Rack Access PX-HID protects NetShelter SX enclosures from unauthorized access. This IP-based system uses electronic locks to secure enclosures and access is granted through HID-based proximity cards or the secure Web interface. Users can integrate with existing building security, as it is compatible with HID-based proximity cards using 125kHz technology and can authenticate from a RADIUS server. Alarm notification options, such as email, indicate a compromised security state. Administrators can easily configure access for individual employees, schedule access to equipment for maintenance purposes, and view audit trails. Easy mounting options include traditional rack mounting or toolless zero-U mounting.
NetBotz Rack Access PX-HID is ideal for:
racks that contain senstive equipment and information
racks in remote or unmanned locations
recording detailed access logs such as who accesses what and when
monitoring the lock and door status of racks to ensure that all racks are secured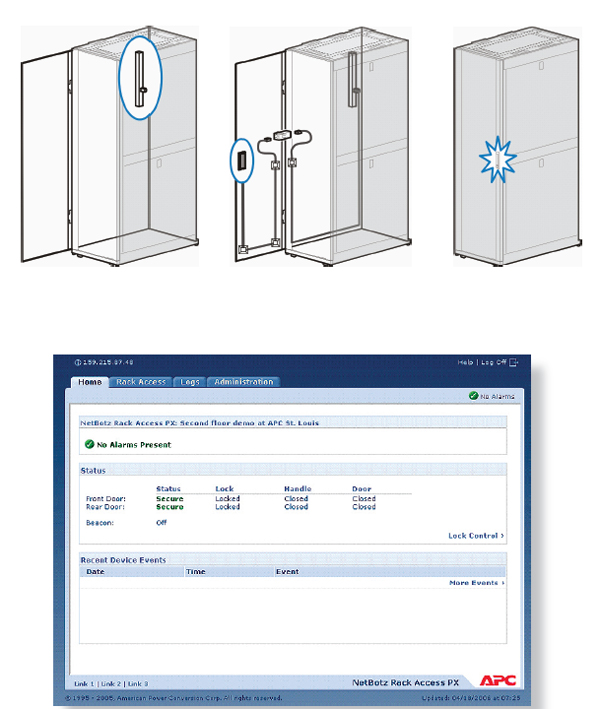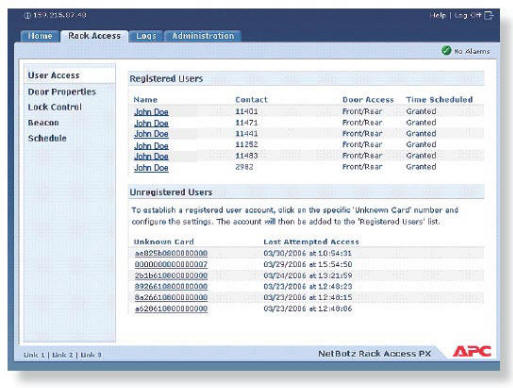 Features & Benefits:
AP9361 Features:

Features:
Rack level management
Helps decision-making on where to locate new equipment without overloading branch circuits. Receive notifications of changes in rack power draw.
Flexible Alert Policies
Identify problematic trends before they escalate or export the data log for analysis.
IP-enabled
Access and manage via a Web browser, Telnet session, SSH, or SNMP.
Data logging
Identify problematic trends before they escalate or export the data log for analysis.
Rack mountable
Includes horizontal, vertical and toolless-mount capabilities.
Proximity Card User Registration
Register proximity cards to specific people.
Forced Entry Alarm
Alarm administrators based on a forced entry into a rack.
Access monitoring
Detect access by unauthorized personnel via door switch.
Remote device management
Remote monitoring of critical conditions for maximum protection against environmental and physical threats.
Remote administration
Minimize response times to critical network infrastructure situations with instant, on-demand device access through the primary IP network, console port, or KVM switches.
NetBotz Access Control Features & Benefits:

Availability:
Proximity Card Access
Grant authorized people access to equipment through proximity card authentication.
User Access Scheduling
Grant equipment access for specific times for each proximity card configured.
Event logging
Pinpoint the timing and sequence of events leading up to an incident by using the integrated audit trail.
Manageability:
Integrates with InfraStruXure Central
An IT-ready, scalable monitoring system that collects, organizes, and distributes critical alerts, surveillance video and key information, providing a unified view of complex physical infrastructure environments from anywhere on the network
Master Key Override
Override electronic access with a hard key for power outages and maintenance.
Telnet Management
Provides a simple telnet session or SSH for remote management access.
Browser Accessible
View the user interface with a browser. Gives quick access from anywhere on the network without the need to install software.
Protection:
Read-only Access
Share access without risking unauthorized configuration changes.
Password Security
User-selectable password protection prevents unauthorized access.
Product Views:
APC Netbotz Rack Access PX - HID: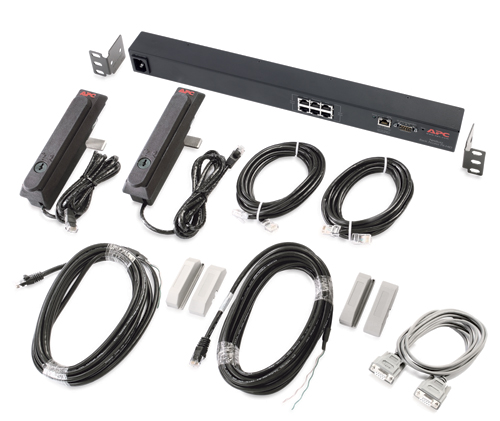 APC Proximity Card Rack Lock Kit: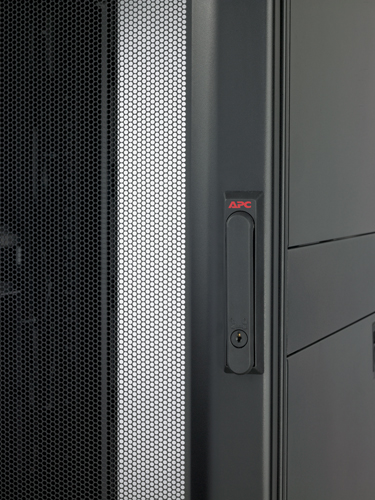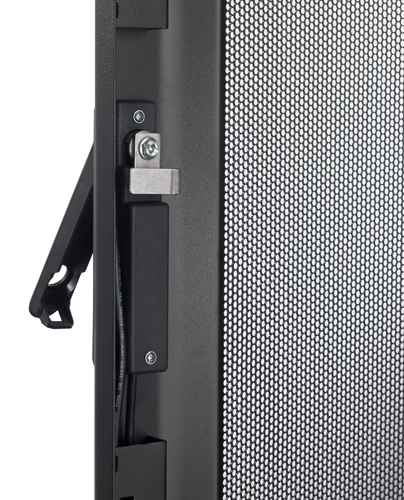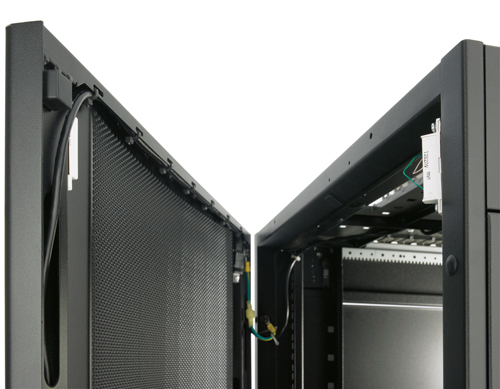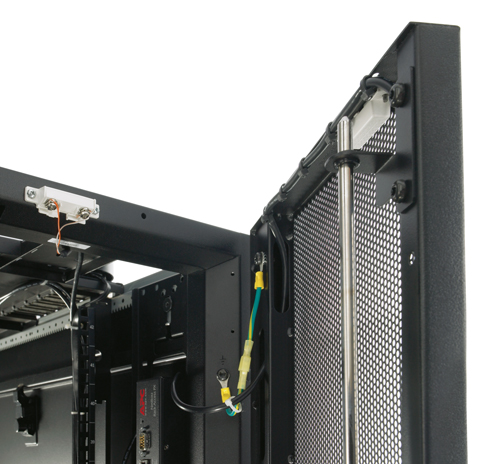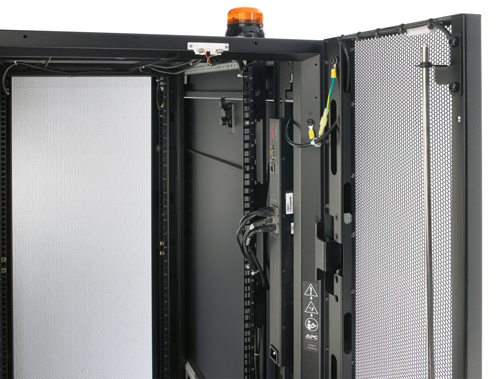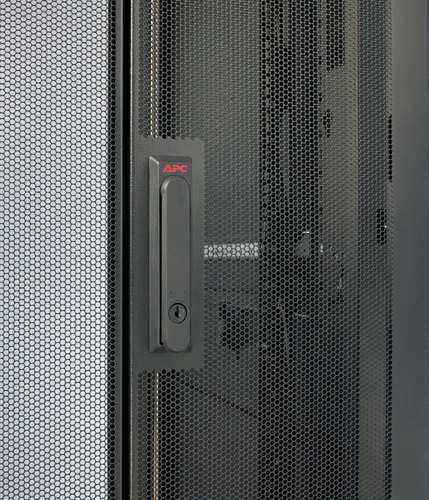 Technical Specifications:
General
Components
Rack Access Appliance, 2 Proximity Card Reader Handles, 2 RJ45 Style Door switch kits, cables, hardware, 2 HID cards
Accessibility
Remote Access, Proximity Card, Master Key Override, User Access Scheduling
Rack Mounting
0U or 1U
Enclosure Compatibility
NetShelter® SX
Alert Notification
SNMP, Paging, E-mail, and Visual Beacon
Network Configuration
TCP/IP Configuration Parameters
Management Solutions
InfraStruXure® Central, HP Open View, What's Up Gold
Appliance Ports
1 RJ-45 Ethernet Port, Serial Port (configuration only), Front Door Lock Port (handle), Front Door Switch (switch), Peripheral Port (reserved for future use), Rear Door Lock Port (handle), Rear Door Switch (switch)
Power
Integrated 110/240 volt power supply (IEC connector)
Proximity Card Capacity
Up to 20 proximity card signatures per appliance
Proximity Card Compatibility
HID Proximity Cards (HID 125kHz proximity technology). Card formats: H10301, H10302, H10304, Corp1000.
Physical
Net Weight
2.20 lbs. (1.00 kg)
Maximum Height
1.74 inches (44 mm)
Maximum Width
17.00 inches (432 mm)
Maximum depth
1.74 inches (44 mm)
Environmental
Operating Environment
32 - 113 °F (0 - 45 °C)
Storage Temperature
5 - 149 °F (-15 - 65 °C)
Operating Relative Humidity
0%
Storage Relative Humidity
0%
Operating Elevation
0-10000 feet (0-3000 meters)
Storage Elevation
0-50000 feet (0-15000 meters)
Conformance
Regulatory Approvals
VCCI Class B
Standard Warranty
2 years repair or replace